Who Is Bruno Fernades's Wife Ana Pinho? Top Facts About Her
Ana Pinho is the wife of Portuguese professional footballer Bruno Fernades who plays as a midfielder for the Portugal national team and the English Premier League club Manchester United. The two were teenage sweethearts and she has been accompanying him across Europe since he started his professional career. They have been married since 2015 and share two children together: daughter Matilde and son Gonçalo. Ana, who describes herself as a fulltime mom on her Instagram bio, shares pictures of her children with her followers almost daily. She also regularly supports her husband from the stands and was even requested by his fans to convince him to sign for Manchester United when the negotiations were on
She and Her Husband Were High School Sweethearts
Ana Pinho, who was born on April 18, 1994 in Portugal, and her husband Bruno Fernades, who was born on September 8, 1994, were teenagers when they first met at a school. The couple mentioned details about how they met and started dating during an interview section titled "De Ponto e Bola" with Você na TV on April 22, 2019. Ana told interviewer Paulo Battista, "At that time we were 16 or 17 years old. We met at school. At that time I was at Boavista and went to a school nearby. We were in the same class." When Battista asked who "stole" the first kiss, she revealed, "He tried several times to kiss me and I always said 'no', but then I gave up." She further added that it happened in a chewing gum shop in front of the school, "Just the two of us, in front of the school, the gum shop".
Fernades Proposed to Her In Front of the Whole Family
Ana Pinho's husband and the attacking midfielder Bruno Fernades joined in on the conversation during her interview with Você na TV and revealed that for him the 'click' moment was when Ana accepted his proposal to live with him in Italy in 2012. He stated that she had to leave "everything behind, what was her life: friends, family, what she had as future plans" in order to help him in realizing his dreams. He went on to describe how he proposed to his future wife, "It was a beautiful moment, it was in front of the whole family". According to him, while he was nervous, Ana was more nervous than him and even dropped the ring once when she realized what was inside while opening the gift box he gave her. Ana chimed in that it happened in Italy during Christmas, "I was suspicious because I didn't know where my gift was, so then someone starts to suspect: 'Is that so?'"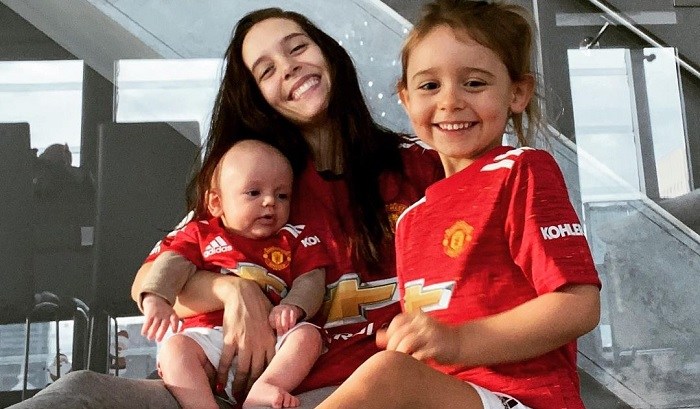 Andrea Stramaccioni Pressured Fernades to Get Married
In August 2020, during an interview with Sky Sports, Italian football manager Andrea Stramaccioni told Paul Gilmour that he had developed a bond with a young Bruno Fernandes when they were both at Udinese in 2014. Calling him a "hard worker" who never complained about extra training sessions, he revealed that the two often joked about his desire to see his young players settle down away from football. He told Gilmour that he was pushing Fernandes a lot to get married by telling him "You love this girl, you need to marry her". When Fernandes finally married Ana in December 2015, Stramaccioni was no longer at Udinese. Nevertheless, he shared how funny it was when Fernandes called him to say "coach I did it".
She Shares Two Children with Fernades
Ana Pinho and Bruno Fernandes share two children together. Their first child, a daughter named Matilde, was born in January 2017. Ana regularly shared picture of her daughter on her Instagram and the two of them could often be seen cheering Fernades from the gallery wearing his team's jersey. Once she posted a picture with her daughter in swimsuit from an island in Portugal along with a poem dedicated to the little one. She shared a picture of Matilde kissing her pregnant belly on Instagram in March 2020 to announce that "A boy on the way". In early September that year, the couple and their three-year-old daughter vacationed on the Algarve ahead of welcoming their second child and before the start of another football season. While staying at a hotel in the upmarket resort of Vilamoura, they had a pregnancy photoshoot, pictures from which they shared on their individual Instagram profiles, also revealing that the baby will be named Gonçalo. On September 6, Ana gave birth to a baby boy hours after Fernandes helped his national team defeat Croatia by 4-1. Sharing a picture of Ana and the baby, Fernandes wrote on Instagram that people were wrong to say he did not score a goal that day because he had scored the "second most important goal" of his life