Who Is John Cena's Girlfriend Shay Shariatzadeh?
Shay Shariatzadeh Facts
Born On:- 1990-09-21
Her Age:- 32
Famous As:- Canadian Engineer and the Wife of WWE Star John Cena
Zodiac:- virgo
Place of Birth:- Vancouver, Canada
Born Country:- Canada
Wife/Husband/Ex:- John Cena
Shay Shariatzadeh is a Canadian engineer who is currently a remote Product Manager at Sonatype and previously worked at Avigilon and Alpha Technologies Ltd. She drew the attention of international media after she was spotted together with American professional wrestler, actor, and television presenter John Cena in March 2019. Cena, who is tied for the record of most world championship reigns in WWE history, made the relationship official in October 2019 by bringing her as his date to the premiere of his movie 'Playing With Fire'.
She Is a Successful Professional
Prior to pursuing an engineering degree, Shay Shariatzadeh had worked at the Canadian lingerie retail company, La Vie En Rose, in Vancouver as a Sales Associate and Third Key Holder since November 2007. She continued to work there even after starting her engineering course the next year, and later joined the Vancouver branch of the American clothing brand and retailer, Guess, as a Sales Associate in August 2009.
She switched to the engineering field in May 2011, when she joined Alpha Technologies Ltd. as a Software Test Engineer Co-op. Before completing her degree from the University of British Columbia, she served as their Engineering Peer Advisor from September 2012 to April 2013. She subsequently rejoined Alpha Technologies as an Electrical Engineer in June 2013 and took responsibility as the Applications Engineer in March 2014.
In May 2015, she moved to Avigilon, a Motorola Solutions company, as a Product Manager overseeing product launches, and continued to work in that capacity until November 2019. She is currently working as a remote Product Manager at Sonatype, an American enterprise software company.
She Was Inspired by Her Brother to Pursue Engineering
Shay Shariatzadeh, who always enjoyed math and physics, became enamored by technology after her brother, who studied engineering in school, brought home a project about autonomous cars one day. She enrolled into the University of British Columbia in 2008 and obtained her bachelor's degree in Electrical and Electronics Engineering in 2013. After consulting with a mentor, she decided that pursuing a career as a product manager would be a perfect fit for her technological knowledge and her exceptional business and people skills. She further interviewed several project managers before becoming one herself.
She Met John Cena at a Vancouver Restaurant
Shay Shariatzadeh first met her now-boyfriend John Cena at a restaurant in Vancouver between February and March 2019, while the latter was in the city shooting for his film, 'Playing With Fire'. They began dating soon after, and were photographed together for the first time in public in late March, when they had a four-hour-long dinner date followed by a romantic stroll holding hands. They officially made their red carpet debut as a couple at the film's premiere at AMC Lincoln Square Theater in New York City in October that year.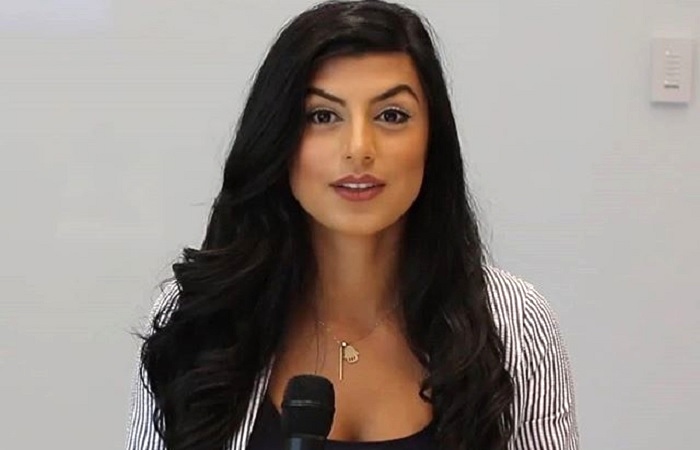 There Have Been Rumors of the Couple's Engagement
Speculations are rife in tabloids that Shay Shariatzadeh and John Cena, may already be engaged secretly. Rumors spread after a fan shared a picture of the couple posing with few kids at Belmont Park in San Diego, California, in which Shariatzadeh was spotted sporting a diamond in her ring finger. Cena himself further fuelled the rumors with one cryptic post after another on his Instagram account: one stating, "Stone Cold Sweethearts Say Yes", another a painting of a bridal couple, as well as tweeting a quote by André Maurois: "A happy marriage is a long conversation that always seems too short". However, the authenticity of a report by 'Life & Style' stating that Cena was planning a lavish wedding has been questioned by 'Gossip Cop'.
Her Surgeon Mother Is Her Role Model
Celebrating the International Women's Day 2019 while working at Avigilon, Shay Shariatzadeh stated that her mother, who was a surgeon, is her biggest role model and the hero she looks up to. Describing her mother as the "strongest and most hard working woman I know", she added that she learnt from her mother "to be independent and fight for the things I want in life." Shariatzadeh, who is of Iranian descent according to some sources, revealed that her mother gave up her career at its peak to move to Canada so that her children could have better opportunities. She also mentioned that her mother always smiled in spite of enduring hardship, which taught her to never give up and keep improving herself.