Ian Charles: Get to Know James Charles's Brother
Ian Charles Facts
Other Name:- Ian Jeffrey Dickinson
Born On:- 2001-12-17
His Age:- 21
Famous As:- James Charles' Brother
Zodiac:- sagittarius
Place of Birth:- Bethlehem, New York
Born Country:- United States
Brothers/Sisters:- James Charles
American model and 'Instagram' sensation Ian Charles, better known as Ian Jeffrey, is creating a lot of buzz in the fashion scene. He previously gained fame as the younger brother of makeup artist and beauty influencer James Charles. Ian shares a special bond with his brother and has also appeared in a few of his videos, showing him trying James's makeup. Ian also helped James create and promote his own fashion line, 'Sisters Apparel.' Ian himself has a brand of his own, titled 'Dusted Garments,' which sells reworked clothes and accessories. Ian has also been in the news for his short-lived relationship with 'YouTube' star and singer Loren Gray. Ian also courted controversy when he defended James after he was attacked online by beauty influencers Tati Westbrook and Jeffree Star.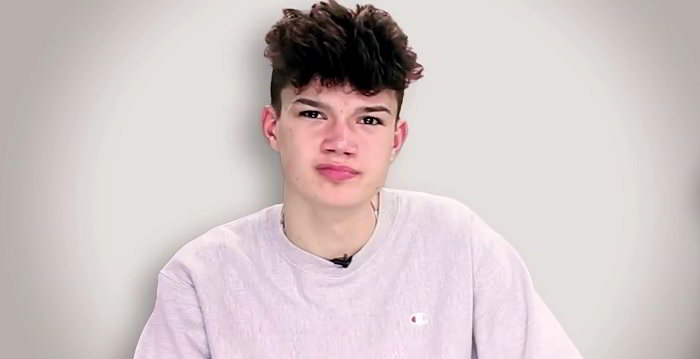 Early Life & Family
Ian Charles was born Ian Jeffrey Dickinson, on December 17, 2001, in the small town of Bethlehem of Albany County, New York, United States. He is the younger son of Charles and Christie Dickinson. His father worked as a contractor. His older brother, James Charles, is a popular makeup artist, LGBT icon, and social-media sensation. Ian is now better known as "Ian Jeffrey" on the internet.
Ian moved to Los Angeles later. Unlike James, who was inclined toward painting in childhood, Ian was interested in sports. He was also a member of the basketball and football teams of his high school and wore jersey number 3.
Rise to Fame: From James Charles's Brother to a Successful Model
Ian shot to fame when he visited Los Angeles, California, with his mother, in July 2017, to meet his brother, makeup artist James Charles, who was already a public figure by then. Ian appeared in one of James's videos, as James wanted to introduce his fans to his family.
Soon, Ian started trying his brother's makeup tutorials in the videos. Ian collaborated with him in various 'YouTube' videos. Two of their most popular videos were 'LITTLE BROTHER DOES MY MAKEUP' (posted on Jul 28, 2017) and 'TURNING MY LITTLE BROTHER INTO A DRAG QUEEN!' (posted on Nov 28, 2017). The videos, uploaded on James's 'YouTube' channel, have earned more than 8 million and 10 million views, respectively.
However, it is evident that Ian hates James calling him "sister," and is seen correcting James every time, by asking him to call him "brother." Ian launched his own 'YouTube' channel on Aug 11, 2015, and it has already gained more than 822 thousand subscribers. However, no content is visible on the channel yet.
In February 2018, Ian posted his first 'Instagram' picture and became an instant hit. His first post on the platform showed him holding a black ice-cream. Ian is now a popular 'Instagram' model. He promotes James's products on his official 'Instagram' account, "ianjeffrey," and also endorses brands such as 'Morphe.' He has more than 1.8 million followers on the platform. His second 'Instagram' account, "whoisianjeffrey," has more than 178 thousand followers.
Ian is associated with the agency 'Wilhelmina Models' and is managed by New York-based talent manager Victoria Lyandres. Apart from doing photo shoots, he also walks the ramp for various designers.
He helped James create the clothing line 'Sisters Apparel' and also designed hoodies for the brand in 2018. He named the hoodies "Brothers" (almost like a response to James Charles's favorite tag, "Sisters"). Ian also has a "shop" on 'Depop,' where he promotes and sells clothes and accessories under the brand 'Dusted Garments.' He also promotes an 'Instagram' page dedicated to the brand, which has around 2 thousand followers. The brand is reportedly a collaboration between Ian and Steven Crookes and sells retouched and reworked vintage garments and accessories, including shoes and bags.
Ian as a Person
Ian loves listening to hip-hop music. His favorite "YouTuber" is his own brother, James. He also adores fashion "YouTuber" PAQ and the lifestyle content creator Danny Duncan.
He once said on his brother's show that he did not believe in global warming. He was highly trolled when he failed high school and also when he liked the 'Students for Trump' page on a social-media platform.
When he travels back to New York, he stays offline and takes a break from all internet activity.
Ian is extremely fond of tattoos and has quite a few on his body. He has inked a flying bird on his thigh, symbolizing freedom. He has a grim reaper inked on his right thigh, signifying that he is not afraid of death. He also has his birth date inked on his chest, meaning he values his life. He has his mother's age inked in Roman numbers on his wrist, which reads "XI-XIX-IX," meaning September 8. He also has "Sisters" inked below that, on his back wrist.
His Relationship with Loren Gray
He began dating popular singer and social-media sensation Loren Gray in late 2018. Ian confirmed their relationship by posting a photo of them together on his 'Instagram' account, just after Christmas that year.
The relationship, however, was short-lived. On March 17, 2019, Loren announced on 'Twitter' that "ian and i are no longer together," adding that they were better off as friends. Ian was, however, criticized by Loren's fans for breaking up with her.
His Role in the Controversy Surrounding Tati and James
On May 10, 2019, makeup artist and "YouTuber" Tati Westbrook posted a 'YouTube' video explaining she had ended her friendship with beauty influencer James Charles. She said "Fame, power and a fat bank account" could change anyone. She made her aversion to James public and also accused him of trying to "trick a straight man into thinking he's gay."
Beauty vlogger Jeffree Star and James's brother, Ian Charles, were soon dragged into the 'Twitter' war. On May 12, Ian "tweeted" a post from his now-suspended 'Twitter' handle, "ianjd12," which read: "Why does everyone act so tough on the internet?" This was in response to Jeffree Star's "tweet" claiming he had banned James from his home because James "is a danger to society." Jeffree had also said, "Everything Tati said is 100% true." The "tweets" have now been deleted.
The fiasco ended with James apologizing in a tearful 'YouTube' video, explaining he was sad that his friendship with Tati was in tatters. The rift had apparently begun when James, while promoting 'SugarBearHair's sleep vitamins at 'Coachella' on April 22 that year, ignored Tati, who has her own rival vitamin company, 'Halo Beauty.' Tati and her husband, James Westbrook, had earlier supported James Charles when he was still a budding beauty influencer.