Bill Gates: The Secret Lifestyle Of The Richest Man In The World
Bill Gates Facts
Other Name:- William Henry Gates III
Born On:- 1955-10-28
His Age:- 68
Famous As:- Co-Founder of Microssoft
Zodiac:- scorpio
Place of Birth:- Seattle, Washington, United States
Height:- 1.77 m
Born Country:- United States
Wife/Husband/Ex:- Melinda Gates (m. 1994; div. 2021)
Mother:- Mary Maxwell Gates
Father:- William H. Gates Sr.
Children:- Jennifer Katharine Gates, Phoebe Adele Gates, Rory John Gates
Brothers/Sisters:- Kristi Gates, Libby Gates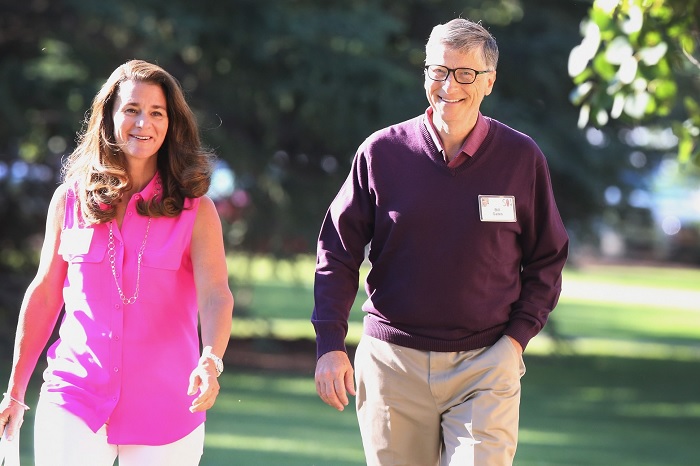 Over the years, he has turned into a household name, not just across the United States but also in third world nations around the world. One of the finest entrepreneurs the world has ever seen, Bill Gates has revolutionized the lives of people across the globe through his multi-billion dollar enterprise 'Microsoft'.  Several magazines like 'Forbes' and 'Time' have spoken at length about his wealth and success. For more than a decade now, he has retained the status of being 'The Richest Man In The World'. For obvious reasons, many gossip enthusiasts were curious to know how this man from the IT world spends his money. Many want to know this man's fascinations and how he pampers himself with those billions of dollars. Well, here are a few insights about the man, beyond his accomplishments at 'Microsoft'. A sneak peek into his personal life will leave you quite surprised and maybe even inspired.
1. His Mansion
Like many other billionaires, Gates too has invested a big chunk in his residence which is spread over an area of 66,000 square feet. The Gates residence is easily one of the most luxurious homes on planet Earth today. This plush residential space has been fondly named 'Xanadu 2.0' by the IT czar. It is believed that the inspiration behind this unconventional name was a fictitious property of the same identity from the cult movie 'Citizen Kane'. If sources are anything to go by, Gates apparently spent 7 years in getting this home constructed, at a staggering price of $63 Million at that time. As of now the price of this luxurious house is said to be approximately $123 Million. Around 300 men were employed to construct the home, of which 100 were electricians alone. There are several smaller buildings within the Gates residence which are controlled through gadgets. The electrical appliances such as intensity of lights and even temperature for that matter can be controlled, thanks to a central home automation system. This house consists of 24 bathrooms and even a dinner hall that can entertain up to 150 seats. In addition, there is also a trampoline room which is meant for recreation. The ceiling of the room is quite high which makes it safe for people trying the trampoline. Gates has left no stone unturned in making his home one of the swankiest residences on the planet.

2. His Expensive Carriers
Bill Gates' popularity has made him quite a globe trotter and to make his life convenient he has purchased a couple of luxurious planes as well. The famous one among these is a 'Bombardier BD-700' which had cost him approximately $40 Million. The plane is known for its ability to fly without any hassles for long distances, even up to 4200 kilometers. This luxurious aircraft has been numbered 'N887WM', where 'WM' stands for William and Mary, the names of Gates' parents. The founder of 'Microsoft' corporation utilizes this plane to the best possible extent when he travels for work related to charity. The plane also comes in handy during the Gates family's vacations. Several billionaires across the world travel in their own private carriers, which are mostly 'Cessna' aircrafts, but Bill's toy belongs to a completely different league altogether. Apart from the 'BD -700', Gates also owns a swanky 'Boeing Business Jet' as well. These two aircrafts in themselves speak volumes about how wealthy their owner really is.
3. The Bill & Melinda Gates Foundation
Charity is what differentiates Bill Gates from many other wealthy people of his kind on the planet. In 2000, Bill along with his wife initiated a charitable organization named 'The Bill & Melinda Gates Foundation', which is undoubtedly the largest of its kind in the world. The charitable organization has been involved in development activities in several underprivileged nations around the world for more than fifteen years now. The organization has invested approximately a whopping US $44.3 billion in this regard, as of 2014, says a popular online media source. The organization has facilitated a wide number of financial initiatives to help poverty stricken individuals who don't manage to earn even $2 on a daily basis. Some of these initiatives are 'Alliance for Financial Inclusion', 'Grameen Foundation' and 'Pro Mujer'. The 'Grameen Foundation' for instance is aimed at financially backing millions of families and alleviating them of poverty. The 'Alliance for a Green Revolution in Africa' also known as 'AGRA' is a brain child of Bill Gates and wife Melinda. As the name suggests, the initiative is aimed at increasing agricultural productivity across the African continent. It is said that the 'Bill & Melinda Gates Foundation' had initially added $100 Million towards 'AGRA' and later a philanthropic organization called the 'Rockfeller Foundation' contributed $50 Million towards this agricultural initiative.
4. The Giving Pledge Foundation
Bill Gates and Warren Buffet, another famous billionaire, joined hands to pave the way for another philanthropic initiative named 'The Giving Pledge Foundation'. The duo met many billionaires from Asian nations like China and India to promote this project and requested many wealthy individuals from these nations to join this initiative. The motive of 'The Giving Pledge Foundation' is to get wealthy individuals to contribute a significant amount of their wealth to the needy in a bid to eradicate poverty. Bill has also implemented his policies of austerity and charity at home. It is believed that each of his children would inherit just $10 Million of Gates' wealth and the billionaire has imbibed the thought of charity in them since a young age.
5. His books
Bill Gates is a voracious reader and acquiring more and more books is a splurge he indulges in quite often. It is believed that Gates came across a bookstore owner who had a unique collection and the billionaire used the services of this man to fill his library. Perhaps, these works penned by great names from the world of science and literature have added a great deal to the wisdom of the 'Microsoft' founder. According to an online source, Bill carries bags filled with books during his journeys and are these believed to be his great companions. Some of the works that have fascinated the man are 'The World Until Yesterday: What We Can Learn From Traditional Societies' and 'Tap Dancing To Work: Warren Buffet On Practically Everything'. The man is also a great fan of science and 'Feynman's Theory of Physics' is one of his favorites.
6. Art Collection
Apart from being inclined towards literature, Bill is also a great patron of fine art. The IT czar has spent a good amount of his earnings in acquiring paintings sketched by eminent artists from around the world. Bill made news when he bought 'Codex Leicester' a work of the legendary painter Leonardo Da Vinci for a whopping $19 Million. This piece of art consists of several lines of text written by Da Vinci and interestingly, Gates photographed the work and shared it amongst those who couldn't afford such an expensive piece of art. In 1996, he purchased a painting named 'Distance Thunder 1961' by spending $10 Million. However, his most expensive acquisition till date is an 1898 classic called 'Lost On The Grand Banks' for which he spent a staggering $36 Million. The other paintings in Bill's glorious collection are 'Room of Flowers' and 'The Nursery' for which the celebrity spent around $20 Million and $10 Million respectively.
7. Cars
Any discussion surrounding billionaires is incomplete without discussing about the collection of their mean machines. Like many other rich people Gates too has an interesting collection of cars. A sneak peek into his fleet reveals that the former Microsoft Chairman is a huge fan of 'Porsche' and owns several cars manufactured by this renowned automobile brand. His 'Porsche 959' is considered to be one of the most sophisticated luxury cars produced today. The car has an incredible ability of clocking a speed of 60 miles per hour in a matter of just 3 seconds. It is claimed that this car was actually banned for US roads and was claimed by the Customs department for almost a decade, only after this period Gates could enjoy its comfort. During the initial days of 'Microsoft', the man pampered himself with a 'Porsche 930', a super luxury car which could attain a maximum speed of 153 Miles per hour. Another baby of the 'Porsche' make which Bill owns is 'Porsche 911 Carrera'.
http://billgates.weebly.com/personal-life.html
https://www.justcollecting.com/miscellania/the-collections-of-bill-gates
http://www.wired.com/2013/12/bill-gates-reading-list/
http://www.indiatimes.com/lifestyle/self/11-unknown-facts-about-bill-gates-that-will-put-a-lot-of-things-into-perspective-232472.html

http://www.businessinsider.in/The-Fabulous-Life-Of-Bill-Gates-The-Richest-Man-In-The-World/Bill-Gates-was-born-on-October-28-1955-in-Seattle-Washington-Son-of-a-lawyer-and-a-schoolteacher-he-was-an-argumentative-but-brilliant-child-As-a-teenager-his-appetite-for-knowledge-was-so-great-that-he-read-the-entire-World-Book-Encyclopedia-series-from-start-to-finish-/slideshow/37361018.cms